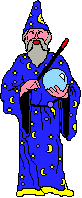 You don't have to be a wizard to get the work done. You will, however, need a wizard's help if it isn't turned in on time.
You must read and acknowledge DVHS and class policy as stated on this page (and as handed out in class) before any classwork will be accepted.

Don't fly in the wrong direction. The Course Outline and Course Policy listed below indicates what you will be responsible for. The Chapter Assignments page, also linked below, indicates what is studied and when homework is due.
CLICK HERE TO DOWNLOAD U.S. HISTORY COURSE AND CLASS POLICY